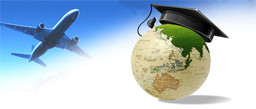 Student File Service
For studying at school level of Bangladeshi students in foreign countries, it is required to obtain prior approval from Bangladesh Bank.
Authorized Dealers are allowed to make payments for admission and study by Bangladeshi nationals in regular courses such as undergraduate, post graduate, language course pre-requisite to bachelor degree and professional diploma/certificate courses in recognized institutions abroad.
Required papers for Student File:
Application form duly filled in.
Valid passport.
Attested copies of educational certificates of the applicant.
Original & photocopy of admission letter issued by the educational institution in favor of the student.
Original & photocopy of estimated cost relating to annual tuition fee, board and lodging, incidental expenses etc. issued by the concerned educational institution.
For traveling purpose, maximum USD500 is allowed for the concerned student.
All payments (for one year only) payable to the educational institution are issued in favor of the institution concerned in the form of TT/Draft or SWIFT system. Payment for board and lodging and other optional incidental charges favoring the educational institution may be issued in favor of the student in the form of TT/Draft. If required, advance is allowed upon receipt of application in written form.