Inception of Risk Management Department (RMD):
Uttara Bank PLC. has established an independent "Risk Management Unit" on 14 September 2009 in compliance with the instruction of Bangladesh Bank, letter no. DOS (EW) 1164/14(Uttara)/2009-442 dated 10.06.2009 and it became "Risk Management Department" through the Bank's Information Circular Letter No. 667 dated 14.09.2009. The Risk Management Department (RMD) manages and measures risks as per regulatory requirements in accordance with the bank's approved risks parameters independently. A Management-Level Risk Management Committee (RMC) of the bank was also formed as per DOS Circular Letter No. 13 dated 09 September 2015 comprising executives of the respective Divisions/Departments headed by the Additional Managing Director who is called Chief Risk Officer (CRO). The committee is looking after the implementation of integrated risk management systems of the bank. Again, The Bank also issued an office order for designated as Head of Risk Management Department (RMD) of the Bank.
In compliance with the sub-section (3) of section 15kha of Bank Company (Amended) Act, 2013 and the subsequent BRPD Circular No. 11 dated 27 October 2013 issued by Bangladesh Bank,
The name of the directors and their status in "Risk Management Committee" is as follows.
| | | |
| --- | --- | --- |
| SL No | Name of the Director | Status with the Committee |
| 1 | Mr. Iftekharul Islam | Chairman |
| 2 | Col. Engr. M. S. Kamal (Retd) | Member |
| 3 | Mr. M. Tajul Islam | Member |
| 4 | Mr. Abul Barq Alvi | Member |
Management-Level Risk Management Committee:
Management-Level Risk management Committee consists of 14(Fourteen) members headed by Additional Managing Director, Chairman of Risk Management Committee and Chief Risk Officer of the bank.
Brief Functions of RMD:
There are various functions in the Risk Management Department among others, the followings are main task:

To collect information from 06(six) Core Risks Departments/ Divisions of the Bank and assess the quality, completeness and correctness of collected data.
To analyze data/information and prepare Monthly/Quarterly (except June and December) Risk Management Report and "Comprehensive Risk Management Report" for the half-year ended June/December by analyzing all reported risk as per tables/formats provided by Bangladesh Bank.
To arrange meeting of Management-Level Risk Management Committee (RMC) on monthly basis and to present the status of 06 (six) core risks with any exceptional situation.
To prepare and get pass the Minutes of the meeting.
The copy of the Risk Management Report along with the minute of the meeting of Management-Level Risk Management Committee is to report through proper channel to CEO/MD for kind perusal and necessary instruction/approval.
Copies of Minutes of the meeting of the Management-Level Risk Management Committee along with monthly Risk Management Report and Comprehensive Risk Management Report are to forward to Department of Off-sight Supervision, Bangladesh Bank on monthly/half-yearly basis.
Any exceptional situation is to report to CEO/MD immediately.
To ensure through independent oversight that he different risks are identified, evaluated, monitored and reported within the established risk management framework.
To take necessary steps to bring the position within limit and also assess and measure the volatility of market and vulnerability of investment from time to time.
To conduct periodic stress testing so that any errors/mistakes/lapses are eliminated gradually during daily operations of the Bank.
To apply the action plan to keep out the bank from indulging in excessive risky business.
To review risk appetite of the Bank annually.
Finally, to comply with the Bangladesh Bank of various issues/inspection etc.
Risk management process:
The Risk management Department within the Bank is responsible for monitoring and reporting on the risks faced by the Bank in its operations in financial markets as follows: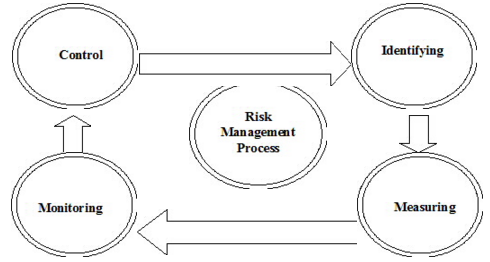 Risks hedged by RMD:
A) Core risk related to different departments / divisions of banking institution as under:
| | |
| --- | --- |
| Types of Risk | Concern Departments/Divisions |
| Asset and Liability Management Risk ( Balance sheet risk) | Asset and Liability Management Department |
| Foreign Exchange Risk | Treasury Division |
| Money Laundering Risk | Money Laundering Department |
| Information and Communication Technology security Risk | ICT Division. |
| Internal Control and Compliance Risk | Internal Control and Compliance Division |
B) Banking companies in Bangladesh, while conducting day to day operations usually face the following risks
| | |
| --- | --- |
| Types of Risk | Concern Departments/Divisions |
| Credit Risk- concentration risk, country risk, transfer risk, and settlement risk concern Division | Credit Division |
| Market Risk-interest rate risk in the banking book, foreign exchange risk and equity risk | Treasury Division |
| Operational Risk: Internal Control and Compliance Risk, ICT Risk concern Divisions | ICC Division and ICT Division |
| Other risk. –Residual risk, concentration risk, liquidity risk, reputation risk, strategic risk, settlement risk. | |
| Appraisal of core risk management practice, environmental and climate change risk as well as other material risks | |
Techniques / Strategy/ Methodology for covering the loss from the above risks:
Basel –II and III (Capital Measurement procedures for the risks mentioned above-B).
Stress Testing (shock absorbent capacity that is how capital is eroded for applies the three shocks level like-minor, moderate and major).
A comprehensive rating model has been developed for evaluating six core risks of the bank.
Basel Implementation Cell has also been initiated to measure capital for the bank to cover the loss from risk.